Henrich Boss 1.0 
The world's advanced rangefinder and LRF riflescope and laser rangefinder modules will be easier to use on the new BOSS 1.0
The BOSS 1.0 program means you can now choose, the app is free and easy to set up, or if you want to take your shooting accuracy to the next level, then download our BOSS smartphone app and configure your rangefinder or sighting with HENRICH's rangefinder module for your precise trajectory and environmental characteristics.
BOSS 1.0 also allows users to quickly and easily preload their range finders and sights and preset ballistic groups on all different products, covering the vast majority of diameters on the market. These default ballistics groups allow you to use boss-enabled products without using smartphone apps, so they are ready just from BOSS1.0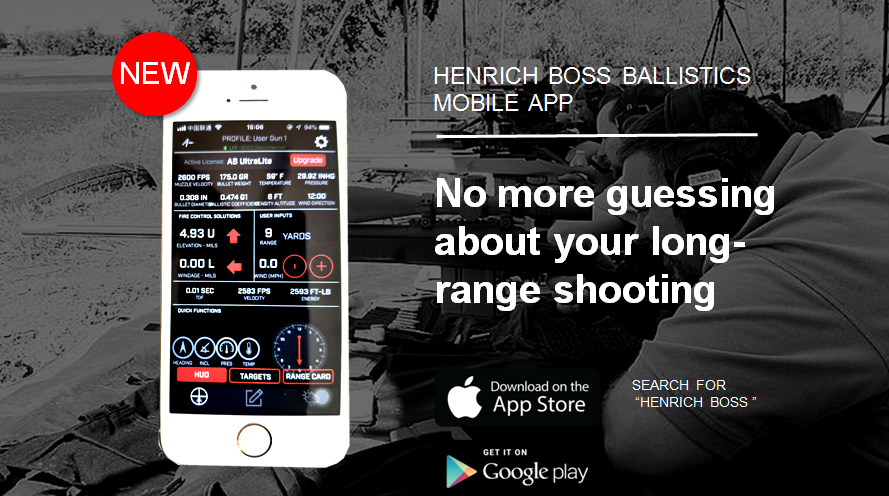 Rangefinder only 
BOSS rangefinder with the world's most advanced ballistic software from Applied Ballistics Inc, which can be suitable for different combinations, allowing users to customize their guns, bullet type, temperature, humidity, air pressure, you can also choose to specified anemometer via bluetooth connection, choose fit your ballistic characteristics of the right group, zero your rifle, then you are ready to go. The smart boss provides 850 yards of support and zooms in and out, giving users an accurate grip on whatever power Settings they want.
 LRF riflescope only 
New BOSS 1.0 allows you to quickly and easily combine into their LRF riflesometer, pre-installed measuring sights on ballistic calculation module, the module installed the world's most advanced ballistic calculation software from Applied Ballistics Inc and a laser range finder, the rest of the work can be done on free of BOSS system via a smartphone APP set the required parameters, via bluetooth transmission to the LRF riflescope, less than a second, then calculates the ballistic revised display on the sight of the screen.
 Rangefinder  module 
We also specify a general ballistic calculation module for different customers, which is also pre installed with the world's most advanced ballistic calculation software from Applied Ballistics Inc and laser rangefinder. Users can design different appearance of sight lens produced by their own company, and install other auxiliary equipment such as indicating laser, strong light flashlight and so on.
The HENRICH BOSS1.0 program is designed to provide customers with a complete ballistic computing solution, from rangefinders to smart sight scopes, anemometers, ballistic computers, smart ballistic watches, ranging modules.